Socio-environmental and Energy Justice Alliance (EJES)
Vaca Muerta is a leading case for the next generation of fossil fuels. Big Oil and Gas companies are keen to turn it into a success story —which is why we collectively need to put a stop to this if we are serious about restricting oil and gas supply globally, protecting territories and fighting climate change. It is our view that "Killing the Dead Cow"—and thus preventing a further expansion of the fossil fuel industry that would be a door-opener for further projects in the Global South— is necessary to build up pressure for an honest dialogue about "managed decline" and fair transition. The collective success of movements in an emblematic case like this would increase leverage for such a conversation.

Taller Ecologista and Observatorio Petrolero Sur in Ejes, Argentina.
---
Vaca Muerta and argentine development.
Assessment of fracking and future outlook.
Vaca Muerta has been at the heart of the Argentine political and economic debate for nearly a decade. This megaproject has raised great expectations, as it has been portrayed as the key to unlock energy self sufficiency, an attractive asset for foreign investment, and an export hub that would finally solve the historical problem of foreign currency shortage. After eight years of significant exploitation, we must ask ourselves: Where are we? Has Vaca Muerta truly helped us take a step closer to our energy sovereignty?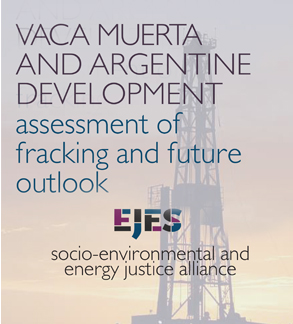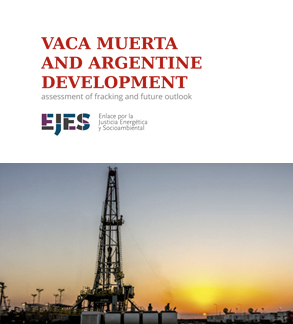 ---
Between certainties and wishful thinking
The exploitation of the Vaca Muerta mega-field became the centerpiece of Argentina's economy, and the focus of governmental expectations around job creation, investment attraction, and exports boost. In a context of stagnation for most productive activities, the energy sector experiences a different reality that can be explained for the most part by the level of exploitation reached in Vaca Muerta. However, its progress is far from being what the government projected in the 2018 Energy Plan.
The numbers of the activity speak of high growth rates. In May 2019, conventional and unconventional national production together boasted a year-on-year growth of 7.6% for gas and 4.8% for oil. However, even if these increases are relevant in historic terms and directly linked to the production performance in Vaca Muerta, they fall short of meeting Javier Iguacel's Energy Plan targets. In what follows, we will analyze four aspects underpinning the doubts surrounding the megaproject's economic viability: Dependency on subsidies, Major global actors find it not relevant, An uncertain potential market and Lack of infrastructure.
---
Vaca Muerta shale play – climate impacts,
wealth concentration and human rights abuses.
Argentina ranks in second and fourth place globally in shale gas and shale oil resources. Almost all of this potential is concentrated in "Vaca Muerta" ("Dead Cow"), which has been identified as the biggest shale play outside North America and makes Argentina the third country, after the United States, and Canada, to reach commercial development. Vaca Muerta is presented as a test case for the Global South, and especially for the Latin American region, where several governments are proposing new unconventional projects.
As a strategy to reduce costs, the scale of operations in Vaca Muerta is growing to reach the size of a transnational megaproject, where the current and proposed infrastructure is expanding throughout Latin America's Southern Cone.
Regulation and policy enforcement is scarce. Its early development is currently infringing on a range of individual and collective human rights in working-class neighborhoods, indigenous communities, agriculture regions, and protected areas. Fracking is an experimental technique so various accidents have been recorded: radioactive pills have been lost in wells, wells have gone up in flames due to gas leaks, truck accidents have caused spills, pipelines have broken, and five workers lost their lives, among other incidents. Social impacts are also exacerbated.
Vaca Muerta is a complex, multidimensional and global issue. It seems unstoppable, but the venture has shown great structural intrinsic fragility and its real potential has been overhyped. On top of that, its scope and speed have also been reduced by networks of national and international resistance. Bans on fracking and infrastructure projects have been stopped across the country.
---
---
Other reports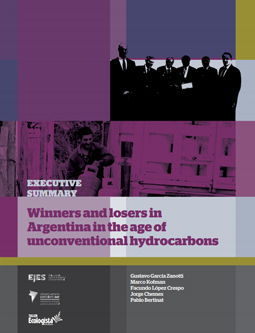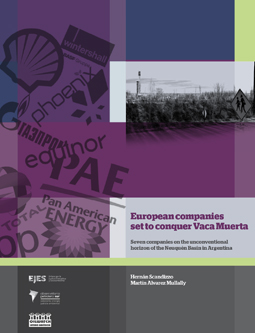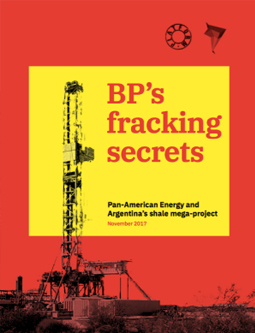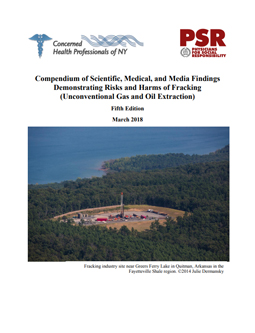 Saltar de vuelta a la navegación principal